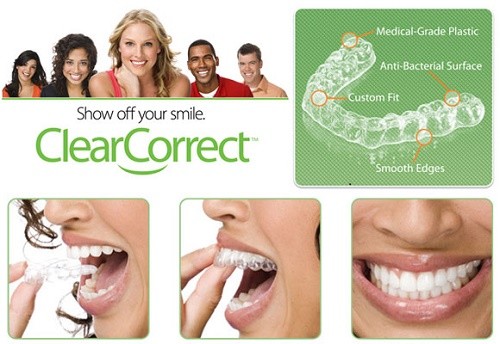 ClearCorrect is for individuals who wish to straighten their teeth. The treatment option is an alternative to traditional metal braces. Drs. Icard and Strein are certified in ClearCorrect orthodontic treatment. This team of Orthodontist in Harrisburg is ready to help improve your smile!
What Is ClearCorrect?
ClearCorrect is removable, clear aligners that are custom fit to your teeth. These invisible aligners are practically unnoticeable.  Patients use them to correct misaligned teeth to achieve an appealing smile. Our system is also used to prevent tooth decay and tartar build-up associated with overlapping teeth.
How does ClearCorrect Work?
Aligner therapy consists of at least 4 phases. Each phase lasts three weeks with patients receiving a new set of aligners at the start of every new phase. The aligners consistently except while eating, drinking, brushing or flossing. Length of treatment will vary from case to case. During your appointment with our dentist in Harrisburg NC we'll determine treatment time. In order to determine your needs, a consultation will be set-up with Dr. Icard or Dr. Strein.
Who Can Get ClearCorrect?
Currently, the aligners are available for teenagers and adults. However, consideration for children should be discussed. Patients presenting the following conditions should ask us if this option is right for them:
Crowded teeth
Gaps between teeth
Overbites
Underbites
Crooked Teeth
ClearCorrect vs Invisalign?
ClearCorrect and Invisalign are quite similar in that they are both teeth alignment systems. They are both used as alternatives to metal braces. Both treatments use a system of trays and require periodic follow-up appointments. According to the Dental Care Network, "The flexibility of the Clear Correct treatment makes it attractive for many patients, as it represents a slightly more affordable alternative to Invisalign". See Dental Education Resource
How Long Does Treatment Take?
Treatment length depends on the corrections needed for your teeth. If you only require small adjustments, treatment can take as little as six sets of Limited 6 aligners. For more complex corrections, treatment can take up to two years.
How Much Does Treatment Cost?
The average cost of ClearCorrect full alignment treatment at Icard and Strein Family Dentistry falls between $2,000 and $6,000. Our cost range is comparable in terms of affordability to Invisalign. [We offer a monthly payment plan if you are unable to pay the full fee up front]. Also, check with your insurance, as you may be eligible to pay for ClearCorrect using your FSA or HSA.
Are ClearCorrect Aligners Covered by Dental Insurance?
Many dental plans do cover orthodontic equipment, such as clear aligners. Give us a call and we can help you determine the coverage your insurance may provide. Often dental insurance covers some of the cost up to a lifetime maximum, often coming to $1,000 to $3,000.
Are Retainers after Treatment Required?
Yes, we will prescribe a retainer in order to prevent the teeth from shifting back.
Does ClearCorrect sounds of interest to you? Give us a call to schedule a consultation with Icard & Strein Family Dentistry in Harrisburg at 704.455.5003. During your visit, we can determine if this is a good option for you and come up with a treatment plan.